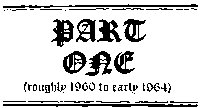 The Beginning: Finding A Niche
?-60     Kerri Lynn-Summer Days/ (Auburn)
(Arr.)
8-60     Preston Epps-Bongo Bongo/
(Original Sound 9) (Arr.)
?-60     Daniel A. Stone - title &label unkn.
(Arr.)
[How did you start?] Kerri Lynn, the record was called "Summer Days" and it was on the Auburn label. That was the first string arrangement I ever did... 1960,1961? You don't have that one, right?
    I joined the union through Nik Venet, with an artist called Albert Stone, whom Nik "nick-named" Daniel A. Stone, because of Ben E. King. I got a union card from that one. Preston Epps wasn't union. That was when I was sweeping floors. Preston Epps was before that.
    The first time I worked in records was when Sonny Bono was A&R at Specialty (in the late 50's). I would play him songs that he thought were almost but not quite there. He let me hang around him...I started doing lead sheets for him, Don & Dewey's lead sheets, then he's give me the chance to arrange something. I did voices for Larry Williams, some horns...
A Mysterious Appearance Of A Bomp Super Hero
Denny Bruce: There was another guy hanging around at that time, from Salt Lake City...
    Sky Saxon! He was one that Sonny was thinking of recording. At that time he was sounding like Dee Clark, "Just Keep It Up." He was Richard Marsh then, that's right. The next time I saw him he asked me if I'd play on the Seeds' sessions and produce. I told him I didn't want to do that, and he ended up telling me he'd pay me just to come down and be at the sessions.
Days With Terry Day
6-62     Terry Day-That's All I Want/I Waited Too Long (Columbia 42427)(Arr.)
1-63     Terry Day-Be A Soldier/I Love You Betty (Columbia 42678)(Arr.)
4-63     Frankie Laine-Don't Make My Baby Blue/(Columbia 42767)(Arr.)
10-63     Frankie Laine-Take Her/I'm Gonna Be Strong (Columbia 42834)(Arr.)
12-62     Eddie Hodges-Seein' Is Believin' (Columbia 42649)(Arr.)
2-63     Eddie Hodges-Too Soon To Know/Would You Come Back (Columbia 42697)(Arr.)
6-63     Eddie Hodges-Halfway/ (Columbia 62811)(Arr.)
2-63     Rip Chords-Here I Stand/Karen (Columbia 42687)(Arr.)
Terry Day was the alias employed by Terry Melcher of Ripchords, Bruce & Terry, and Doris Day kinship fame, during a two-single recording stint with Columbia prior to becoming a staff producer there.
    The first Terry Day record was a guy named Al Hazan, who wrote these two songs. He used to hang around Argyle, El Centro, all that record business area. His songs always sounded like hits but they never were. Ali Hassan was his name on the Philles record (103). After that Terry wanted Phil Spector(who produced "Be A Soldier") and he'd do anything. He told him he'd let him score his mother's next movie...
Frankie Laine, he was great. "Muletrain" was one of my favorite records. When Terry Melcher was hired as producer at Columbia, there were certain acts he could do. That was a good record ("Don't Make..."). (The version of "I'm Gonna Be Strong" by Laine preceded Gene Pitney's hit by a year; the A-side is an early Randy Newman song).
    Bruce & Terry were on there ("Here I Stand"). There were also two guys who were early Christians, going to a seminary. Bruce & Terry sang on that record, they made it sound the way it did.

Days With Doris Day

    Doris Day-Move Over Darling/(Columbia) ?-63     Doris Day-Let The Little Girl Limbo (un-released)(Arr.)

    That was a legitimate session. We (Terry Melcher and Jack) made some good records with Doris Day, but Marty Melcher thought they were bad for her image, so they never came out. "Let The Little Girl Limbo" was one, that never came out.
[On the heels of "Blame It On The Bossa Nova?"]
    Yeah, it was. Barry Mann and Cynthia Weil wrote it, and I think it could've been a hit for her.

Days With Bobby Day

2-63     Bobby Day-Another Country Another World/I Know It All (RCA 8133)(Arr.)

    I don't have a copy of this. "Another Country, Another World." I'd like to hear that. Crystals song. Phil Spector/Doc Pomus. That was a good record. Gracia (Nitzsche, Jack's wife) and the Blossoms singing. I thought he was so good! I did about three other records with him on RCA. Later I heard he went to Australia as the Hollywood Flames, Bobby Day, and Bob & Earl. All three of them were the same thing in Australia! Marty Cooper produced? Olympia. He's the voice on the Olympia Beer commercials. I used to do lead sheets for him. He never came up with anything worthwhile till the Olympia Beer commercial.

Reprise Course

4-63     Jimmy Griffin-What Kind Of Girl Are You/A Little like Lovin' You (Reprise 20.161)(Arr.)
11-63     Jimmy Griffin-Marie Is Moving/Little Miss Cool (Reprise 20,22,1)(Arr.)
4-64     Jimmy Griffin-My Baby Made Me Cry (Reprise 02681)(Arr.)
9-63     Jimmy Griffin-Summer Holiday LP (Reprise R9-6091)(Arr. - "Ooh, what a bad one!")
6-63     Soupy Sales-Hilly Billy Ding Dong.../ (Reprise 20,189)(Arr.)
6-63     Dorsey Burnette-Invisible Chains/Pebbles (wr. David Gates)(Reprise 20,177)(Arr.)
9-63     Dorsey Burnette- Where's The Girl/One of the Lonely (Reprise 20,208)(Arr.)
3-64     Thurston Harris-Dance on Little Girl (Reprise 0255)(Arr. - "Trying to remake his hit.")
4-64     Billy Ford-My Girl/This is Worth Fighting For (Reprise 0265)(Arr.)(A-side written by Nitzsche & Jackie DeShannon)
5-64     Lifeguards-Swimtime USA (wr. Sloan- Barri)/Swim Party (Reprise 0277)(Arr.)

[Nitzsche did a great deal of arranging for Reprise between 1963 and 1965, thanks to label production head Jimmy Bowen, who had a high respect for his services. Nitzsche on the whole is not presently enamored of much of this work, though it generally sounds fine for the period.]

    "Hilly Billy Ding Dong Choo Choo." It was fun. My son was just a little boy, and he got to come to the session, so it was worth it. It was also fun to hear Soupy swear.
    "Where's The Girl" I like. That was good. It was a Jerry Butler demo, it was really good. Leiber & Stoller (its writers) were so pissed off we made the record...
The "Who Is Pat Powdrill" Mystery Remains Unsolved
4-63     Pat Powdrill-I Only Came To Dance With You(wr. P J Proby)/Fell by the Wayside (wr. Joe South) (Reprise 20,166)(Arr.)
8-63     Pat Powdrill-Happy Anniversary(co-wr. Ellie Greenwich) /I Forgot More Than You'll Ever Know (Reprise20,204)(Arr.)
    Oh this is awful stuff. I've got copies of all these. Everybody was trying to imitate Phil Spector. It was good but no one did the right thing in the booth, no one used Gold Star.
[Was Gold Star the secret?]
    Oh, yeah. The echo chamber. There's no echo chamber like that in town. I want to use it. That chamber's still there.
[Nietzsche's disclaimer notwithsatnding, "Happy Anniversary" is a lovely little Chiffons soundalike-almost uncannily so. So who WAS Pat Powdrill?]
I don't know, somebody Jimmy Bowen found. Token black at Reprise...
Wildcat Sessions!
2-64     Wildcats-What Are We Gonna Do in'64/ 3625 Groovy Street (Reprise 0253)(co-prod)
    Lee Hazelwood (writer, co-producer). That's the Blossoms. They were singing behind Duane Eddy, and they figured if he was having hits because of them, which was kind of true on his comeback ["Boss Guitar," "Dance With The Guitar Man"], that they could have them on their own. That's all that was. What are we going to do in '64? The same thing we did in '63 obviously.
[The Blossoms by the way, were L.A.'s top session singers, and cut records on their own from the late 50's through to the early 70's. Personnel included Darlene Love, Fanita James [also one of Bob B Soxx's Bluejeans, as was Darlene, who was an occasional Crystal-gets confusing, doesn't it], Jean King [who had a solo album on HBR Records in '65] and sometimes Gracia Nitzsche]
Four On The Femme Side
?-62     Judy Hart-That's Enough/Didn't He Ramble (Staccatto 101)(Prod)
4-63     Toni Jones-Dear (Here Comes My Baby)(wr. P. Spector)/Love is Strange (Smash 1814)(Arr.)(uncredited)
?-63     Ramona King-Soul Mate/Oriental Garden (Eden 3)(Arr.)
?-63     Marry Clayton (sic)-The Doorbell Rings (Teldisc 501) (Co-prod.,arr.)
6-63     Merry Clayton-It's In His Kiss/Magic of Romance (wr.Jeff Barry)(Capitol 4984)(Arr.)
    That's obscure. Judy Hart is Judy Henske. H.B.Barnum and I went into business and both started labels. That's just a takeoff on the Gospel Harmonettes record. Just a lyrical change, that's horrible.
Toni Jones, produced by Steve Douglas, "Teenage" Steve. That was a pretty good record, that's one of the few I don't have. "Puddin' Tain," thank you.
[Spector had nothing to do with this?]
    No, just the influence.
    That's a good one, this is (Ramona King); There was a time when I shared an office with Lee Hazelwood and we had a deal. This was his first label-Era distributed it. I like this one...
[Was this before she did "It's In His Kiss"?]
    This is before that. Did Ramona King do that? I didn't do it, did I? No.
    I don't even remember this one (Mery Clayton). Russ Regan and Joe Saraceno wrote it?
    Denny Bruce: Russ Regan was an artist, too, as Davey Summers.
    I like this. This was before "It's In His Kiss"
[Note: The Merry Clayton version of "It's In